Staff
Coach Danny Thomas, PGA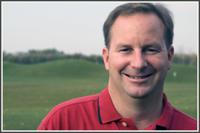 Biography:
Coach Danny Thomas (CDT) was born and raised in Michigan and graduated from Ferris State University in 1988 with a Bachelor's in Business / Professional Golf Management. He has been a PGA Golf Professional for more than 25 years, and specializes in the development of junior golfers for the past 12 years. Dan was awarded the Michigan PGA Golf Leader Award in 2008 and was asked to speak at the PGA Championship at Oakland Hills Country Club to share his insights on Junior Golf Development.

Dan's extensive involvement in Junior Golf gives him profound insight and knowledge to assist his students to reach their goals to play college golf. Dan is the president of the National Golf Scholarship Association and the founder of the U.S. Top50 Scholarship Golf Tour. He is also the founder of the Junior Elite Team Training Program (JETT) at Fox Hills. Students who participate in CDT programs have earned in excess of $525,000 in college scholarships.

In addition to Dan's specialized education and strong golf instructional background, he is also an accomplished player. He has qualified for the PGA Tour's Buick Open at Warwick Hills Country Club, a member of two Fuller Cup teams, "Player of the Year" at Ferris State University and "Player of the Year" in the Central Chapter of the Michigan PGA. Having played at the highest level he understands the physical and mental requirements to compete and succeed at the game of golf.

CDT continues to be a leader in the development of junior golfers. He understands the developmental phases of the golf swing and the various mental capabilities of junior golfers. This has allowed him to create innovative programs to accelerate and enhance the playing ability of his talented students. Dan's Junior Elite Team Training Program (JETT) at Fox Hills has a phenomenal rate of success. Most recently 14 of 21 (67%) of the eligible girls in his JETT program qualified for the 2014 high school state championship.

To learn more about CDT and his Junior Golf Development Programs please go to CoachDannyThomas.com
Coach Jim Endicott, PGA

Biography:
Jim Endicott
Director of Instruction
Royal St. Cloud Academy
Contact Info: floridatourdirector@top50jrtour.com (407) 460-9420
Teaching Philosophy
Golf
The golf ball tells the player and instructor what to do. From where the ball is at rest to the target and
terrain you must negotiate the ball tells us how to execute the golf shot. In turn the flight of the golf
ball tells us what fault or faults the player has and how to correct those faults. My job as an instructor
is teaching the player how to understand their ball flight and what to practice improving the fault.
What the players golf swing looks like matters not as long as they are able to repeat a productive
impact controlling their ball flight. Playing golf is fun and so should the learning process.
30 Years' Experience Teaching People to Play Better Golf
Former Director Golf Digest Schools
Certified John Jacobs Golf Schools Lead Instructor
Certified Plane Truth Golf Level One Instructor
Certified Swing Simplified Instructor
Swing Catalyst Certified
First Tee Lead Coach
Top 50 Scholarship Junior Tour - Central Florida
Callaway Master Club Fitter
Mizuno Certified Club Fitter
Ping Certified Club Fitter
Played professionally for over 10 years
Clients include – New Golfers, Mid to High Handicap Golfers, Junior Golfers, High School Players, Celebrities, Best Selling Authors, NFLPlayers, MLB Players and Coaches, Professional Golfers