Staff
Coach Danny Thomas, PGA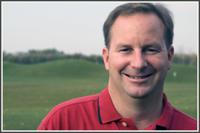 Biography:
Coach Danny Thomas (CDT) was born and raised in Michigan and graduated from Ferris State University in 1988 with a Bachelor's in Business / Professional Golf Management. He has been a PGA Golf Professional for more than 25 years, and specializes in the development of junior golfers for the past 12 years. Dan was awarded the Michigan PGA Golf Leader Award in 2008 and was asked to speak at the PGA Championship at Oakland Hills Country Club to share his insights on Junior Golf Development.

Dan's extensive involvement in Junior Golf gives him profound insight and knowledge to assist his students to reach their goals to play college golf. Dan is the president of the National Golf Scholarship Association and the founder of the U.S. Top50 Scholarship Golf Tour. He is also the founder of the Junior Elite Team Training Program (JETT) at Fox Hills. Students who participate in CDT programs have earned in excess of $525,000 in college scholarships.

In addition to Dan's specialized education and strong golf instructional background, he is also an accomplished player. He has qualified for the PGA Tour's Buick Open at Warwick Hills Country Club, a member of two Fuller Cup teams, "Player of the Year" at Ferris State University and "Player of the Year" in the Central Chapter of the Michigan PGA. Having played at the highest level he understands the physical and mental requirements to compete and succeed at the game of golf.

CDT continues to be a leader in the development of junior golfers. He understands the developmental phases of the golf swing and the various mental capabilities of junior golfers. This has allowed him to create innovative programs to accelerate and enhance the playing ability of his talented students. Dan's Junior Elite Team Training Program (JETT) at Fox Hills has a phenomenal rate of success. Most recently 14 of 21 (67%) of the eligible girls in his JETT program qualified for the 2014 high school state championship.

To learn more about CDT and his Junior Golf Development Programs please go to CoachDannyThomas.com
Coach Tony Wilson, PGA

Biography:
Tony has been honing his teaching skills for over 30 years in Central Florida. His past 6 years have been spent at Orlando World Center Marriott under the tutelage of Top 100 Teacher Bill Madonna. He is now the Lead Instructor @ Jack Nicklaus Academy of Golf Orlando. Elected to the PGA of America in 1993, he was voted "Golf Professional of the Year" by the North Florida East Central Chapter PGA in 1999. Tony is also a member of the NFPGA Section Rules Committee. A leader in the world of junior golf, Tony has been the Director of Florida Top50jrTour for the past 6 years. He was also voted "Coach of the Year" in 2012 & 2013 for Orange County Public Schools Metro West Conference while leading the Dr. Phillips High School Golf Program.
Tom Brecht
Chris Brecht