2019 TourZone Cup @ Golden Fox (Fox Hills Golf Club)
Overview
September 29, 2019
2019 TourZone Cup @ Golden Fox (Fox Hills Golf Club)
Tournament Courses:
Fox Hills GC (Plymouth, MI)
Registration Deadline:
Thursday, September 26 at Midnight
Eligibility:

Boys 7-18
Girls 7-18
Members
Non-Members
$95.00
$95.00
Late Fee:
$20.00 Late Fee Applies after 9/24/2019
Notes:
This is a Ryder Cup Style 18 Hole tournament. Students will be paired in teams of 2; it will be a first come, first serve process. The first 6 holes will be best ball, the second alternate shot and the third scramble. Lunch provided.
Divisions
Boys 16 to 18
$95.00
Round #1 9/29/2019
Fox Hills GC - Golden Fox
Blue - Par 72 - 6431 Yards (132/71.4)
| Hole | 1 | 2 | 3 | 4 | 5 | 6 | 7 | 8 | 9 | 10 | 11 | 12 | 13 | 14 | 15 | 16 | 17 | 18 |
| --- | --- | --- | --- | --- | --- | --- | --- | --- | --- | --- | --- | --- | --- | --- | --- | --- | --- | --- |
| Handicap | 3 | 13 | 17 | 11 | 5 | 15 | 7 | 1 | 9 | 12 | 2 | 14 | 18 | 16 | 10 | 4 | 6 | 8 |
| Par | 4 | 4 | 3 | 4 | 5 | 3 | 4 | 5 | 4 | 4 | 5 | 3 | 4 | 3 | 4 | 4 | 5 | 4 |
| Yardage | 414 | 356 | 161 | 301 | 483 | 179 | 398 | 520 | 336 | 363 | 472 | 198 | 343 | 165 | 386 | 413 | 510 | 433 |
| | | | | | | | | | |
| --- | --- | --- | --- | --- | --- | --- | --- | --- | --- |
| Hole | 1 | 2 | 3 | 4 | 5 | 6 | 7 | 8 | 9 |
| Hcp | 3 | 13 | 17 | 11 | 5 | 15 | 7 | 1 | 9 |
| Par | 4 | 4 | 3 | 4 | 5 | 3 | 4 | 5 | 4 |
| Yds | 414 | 356 | 161 | 301 | 483 | 179 | 398 | 520 | 336 |
| | | | | | | | | | |
| --- | --- | --- | --- | --- | --- | --- | --- | --- | --- |
| Hole | 10 | 11 | 12 | 13 | 14 | 15 | 16 | 17 | 18 |
| Hcp | 12 | 2 | 14 | 18 | 16 | 10 | 4 | 6 | 8 |
| Par | 4 | 5 | 3 | 4 | 3 | 4 | 4 | 5 | 4 |
| Yds | 363 | 472 | 198 | 343 | 165 | 386 | 413 | 510 | 433 |
Boys 12 to 15
$95.00
Round #1 9/29/2019
Fox Hills GC - Golden Fox
Blue - Par 72 - 6431 Yards (132/71.4)
| Hole | 1 | 2 | 3 | 4 | 5 | 6 | 7 | 8 | 9 | 10 | 11 | 12 | 13 | 14 | 15 | 16 | 17 | 18 |
| --- | --- | --- | --- | --- | --- | --- | --- | --- | --- | --- | --- | --- | --- | --- | --- | --- | --- | --- |
| Handicap | 3 | 13 | 17 | 11 | 5 | 15 | 7 | 1 | 9 | 12 | 2 | 14 | 18 | 16 | 10 | 4 | 6 | 8 |
| Par | 4 | 4 | 3 | 4 | 5 | 3 | 4 | 5 | 4 | 4 | 5 | 3 | 4 | 3 | 4 | 4 | 5 | 4 |
| Yardage | 414 | 356 | 161 | 301 | 483 | 179 | 398 | 520 | 336 | 363 | 472 | 198 | 343 | 165 | 386 | 413 | 510 | 433 |
| | | | | | | | | | |
| --- | --- | --- | --- | --- | --- | --- | --- | --- | --- |
| Hole | 1 | 2 | 3 | 4 | 5 | 6 | 7 | 8 | 9 |
| Hcp | 3 | 13 | 17 | 11 | 5 | 15 | 7 | 1 | 9 |
| Par | 4 | 4 | 3 | 4 | 5 | 3 | 4 | 5 | 4 |
| Yds | 414 | 356 | 161 | 301 | 483 | 179 | 398 | 520 | 336 |
| | | | | | | | | | |
| --- | --- | --- | --- | --- | --- | --- | --- | --- | --- |
| Hole | 10 | 11 | 12 | 13 | 14 | 15 | 16 | 17 | 18 |
| Hcp | 12 | 2 | 14 | 18 | 16 | 10 | 4 | 6 | 8 |
| Par | 4 | 5 | 3 | 4 | 3 | 4 | 4 | 5 | 4 |
| Yds | 363 | 472 | 198 | 343 | 165 | 386 | 413 | 510 | 433 |
Girls 16 to 18
$95.00
Round #1 9/29/2019
Fox Hills GC - Golden Fox
White - Par 72 - 6042 Yards (129/69.8)
| Hole | 1 | 2 | 3 | 4 | 5 | 6 | 7 | 8 | 9 | 10 | 11 | 12 | 13 | 14 | 15 | 16 | 17 | 18 |
| --- | --- | --- | --- | --- | --- | --- | --- | --- | --- | --- | --- | --- | --- | --- | --- | --- | --- | --- |
| Handicap | 3 | 13 | 17 | 11 | 5 | 15 | 7 | 1 | 9 | 12 | 2 | 14 | 18 | 16 | 10 | 4 | 6 | 8 |
| Par | 4 | 4 | 3 | 4 | 5 | 3 | 4 | 5 | 4 | 4 | 5 | 3 | 4 | 3 | 4 | 4 | 5 | 4 |
| Yardage | 399 | 342 | 139 | 292 | 437 | 168 | 384 | 484 | 325 | 352 | 459 | 170 | 315 | 149 | 348 | 392 | 482 | 405 |
| | | | | | | | | | |
| --- | --- | --- | --- | --- | --- | --- | --- | --- | --- |
| Hole | 1 | 2 | 3 | 4 | 5 | 6 | 7 | 8 | 9 |
| Hcp | 3 | 13 | 17 | 11 | 5 | 15 | 7 | 1 | 9 |
| Par | 4 | 4 | 3 | 4 | 5 | 3 | 4 | 5 | 4 |
| Yds | 399 | 342 | 139 | 292 | 437 | 168 | 384 | 484 | 325 |
| | | | | | | | | | |
| --- | --- | --- | --- | --- | --- | --- | --- | --- | --- |
| Hole | 10 | 11 | 12 | 13 | 14 | 15 | 16 | 17 | 18 |
| Hcp | 12 | 2 | 14 | 18 | 16 | 10 | 4 | 6 | 8 |
| Par | 4 | 5 | 3 | 4 | 3 | 4 | 4 | 5 | 4 |
| Yds | 352 | 459 | 170 | 315 | 149 | 348 | 392 | 482 | 405 |
Girls 12 to 15
$95.00
Round #1 9/29/2019
Fox Hills GC - Golden Fox
White - Par 72 - 6042 Yards (129/69.8)
| Hole | 1 | 2 | 3 | 4 | 5 | 6 | 7 | 8 | 9 | 10 | 11 | 12 | 13 | 14 | 15 | 16 | 17 | 18 |
| --- | --- | --- | --- | --- | --- | --- | --- | --- | --- | --- | --- | --- | --- | --- | --- | --- | --- | --- |
| Handicap | 3 | 13 | 17 | 11 | 5 | 15 | 7 | 1 | 9 | 12 | 2 | 14 | 18 | 16 | 10 | 4 | 6 | 8 |
| Par | 4 | 4 | 3 | 4 | 5 | 3 | 4 | 5 | 4 | 4 | 5 | 3 | 4 | 3 | 4 | 4 | 5 | 4 |
| Yardage | 399 | 342 | 139 | 292 | 437 | 168 | 384 | 484 | 325 | 352 | 459 | 170 | 315 | 149 | 348 | 392 | 482 | 405 |
| | | | | | | | | | |
| --- | --- | --- | --- | --- | --- | --- | --- | --- | --- |
| Hole | 1 | 2 | 3 | 4 | 5 | 6 | 7 | 8 | 9 |
| Hcp | 3 | 13 | 17 | 11 | 5 | 15 | 7 | 1 | 9 |
| Par | 4 | 4 | 3 | 4 | 5 | 3 | 4 | 5 | 4 |
| Yds | 399 | 342 | 139 | 292 | 437 | 168 | 384 | 484 | 325 |
| | | | | | | | | | |
| --- | --- | --- | --- | --- | --- | --- | --- | --- | --- |
| Hole | 10 | 11 | 12 | 13 | 14 | 15 | 16 | 17 | 18 |
| Hcp | 12 | 2 | 14 | 18 | 16 | 10 | 4 | 6 | 8 |
| Par | 4 | 5 | 3 | 4 | 3 | 4 | 4 | 5 | 4 |
| Yds | 352 | 459 | 170 | 315 | 149 | 348 | 392 | 482 | 405 |
Coed 8 to 11
$95.00
Round #1 9/29/2019
Fox Hills GC - Golden Fox
Red - Par 72 - 5040 Yards (121/69.7)
| Hole | 1 | 2 | 3 | 4 | 5 | 6 | 7 | 8 | 9 | 10 | 11 | 12 | 13 | 14 | 15 | 16 | 17 | 18 |
| --- | --- | --- | --- | --- | --- | --- | --- | --- | --- | --- | --- | --- | --- | --- | --- | --- | --- | --- |
| Handicap | 3 | 13 | 17 | 11 | 5 | 15 | 7 | 1 | 9 | 12 | 2 | 14 | 18 | 16 | 10 | 4 | 6 | 8 |
| Par | 4 | 4 | 3 | 4 | 5 | 3 | 4 | 5 | 4 | 4 | 5 | 3 | 4 | 3 | 4 | 4 | 5 | 4 |
| Yardage | 337 | 298 | 117 | 259 | 382 | 144 | 295 | 424 | 271 | 284 | 361 | 141 | 302 | 105 | 282 | 258 | 454 | 326 |
| | | | | | | | | | |
| --- | --- | --- | --- | --- | --- | --- | --- | --- | --- |
| Hole | 1 | 2 | 3 | 4 | 5 | 6 | 7 | 8 | 9 |
| Hcp | 3 | 13 | 17 | 11 | 5 | 15 | 7 | 1 | 9 |
| Par | 4 | 4 | 3 | 4 | 5 | 3 | 4 | 5 | 4 |
| Yds | 337 | 298 | 117 | 259 | 382 | 144 | 295 | 424 | 271 |
| | | | | | | | | | |
| --- | --- | --- | --- | --- | --- | --- | --- | --- | --- |
| Hole | 10 | 11 | 12 | 13 | 14 | 15 | 16 | 17 | 18 |
| Hcp | 12 | 2 | 14 | 18 | 16 | 10 | 4 | 6 | 8 |
| Par | 4 | 5 | 3 | 4 | 3 | 4 | 4 | 5 | 4 |
| Yds | 284 | 361 | 141 | 302 | 105 | 282 | 258 | 454 | 326 |
Participants
Nathan Blazo
Northville, MI
Class of

2021
Ben Carroll
Bloomfield Hills, MI
Class of

2024
Nathan Ollesheimer
Rochester Hills, MI
Class of

2024
Austin Summers
White Lake, MI
Class of

2024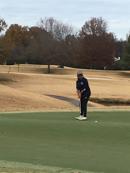 Aarushi Ganguly
Canton, MI
Class of

2020
Courses
Fox Hills GC - Golden Fox
8768 North Territorial Road
Plymouth, Michigan 48170
+1 (734) 453-7272